Security 2000 BV was founded in 1999 by Mike Leek and recognized by the Ministry of Justice under number ND 1104. Security 2000 BV is ISPS and ECABO certified.
Since its establishment, Security 2000 has carried out numerous specific assignments in a very broad spectrum within security and facility services to full satisfaction.
With all the experience that Security 2000 has gained, we can seamlessly match our services to your wishes as a customer and offer you a "total care" package.
Our specialty is object and project security. We distinguish ourselves from other providers through adequate facility services and are (24 ~ 7) directly accessible (06-53138142) at a competitive rate.
Security 2000 BV is a financially sound organization, where no suspension of payment or bankruptcy has ever been requested by any party. We are a profitable company with healthy liquidity and only our own capital.
We meet all our tax obligations and social security contributions and have never been convicted of any offense.
In short …. we are a reliable partner!
Security 2000 provides customized services!

Activity
Security 2000 BV is involved and has experience with preventive and repressive security and facility services from, among others
– international financial service providers
– government institutions and projects
– penal institutions
– value transporters
– construction and infrastructure projects
– petrochemical industry
– port security
– airports
– real estate
– stores
– events
– personal security
– museums
– archaeological projects
– porter services
– hotels
– gas stations
– dog brigade
– traffic guidance
– healthcare institutions
– neighborhood prevention and neighborhood surveillance
(download our brochure here)
– fire guards and manhole guards
(download our brochure here)

Facility
Security 2000 offers its customers numerous facilities to get the projects as secure as possible.
You can think of:
– Prevention advice
– Risk analysis
– Burglary prevention
– emergencies and evacuation plans
– Inspection for rented business premises and homes
– Investigation and detective work
Business lounge
Security 2000 invites its customers in our representative VIP lounge on the TT circuit in Assen to participate in incentives, network drinks, business meetings and to enjoy global events.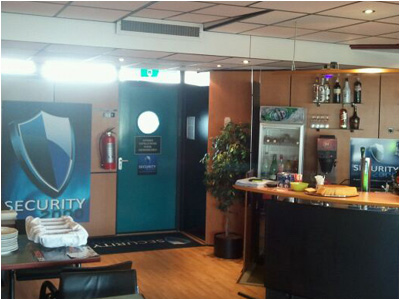 Twenty
November 6, 1999 – November 6, 2019 Twenty years of Security2000 BV
A lot has happened in the last 20 years, Security2000 BV has completed a very large variety of different assignments in all parts of the country to all satisfaction.
Always with great loyalty and flexibility to our clients with professionalism and dedication, whereby No did not occur.
Thank you to everyone who has contributed to this in the last 20 years.


Voormeer 2D
1813 SB Alkmaar
06 53 13 81 42
info@security2000.nl
www.security2000.nl
KvK nr.: 37086080
BTW nr.: NL812338133B01
Ministerie van Justitie: ND 1104